someone took actual quotes from Roger Clemens testimony in front of congress and made them into poems.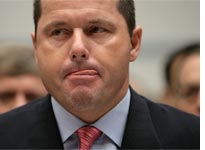 "Offensive Haiku"

I am offended.
I will be honest with you.
I am offended.
"Glute"
I have strained my glute
On a couple occasions.
I wish I could tell you
How many occasions.
—Feb. 5, 2008, deposition
"Headaches"
Kids come to my house and work out.
I invite them to come work out.
The littler kids,
I try to get them to sign a waiver
In case a bat comes out of my hand, or a ball.
We've experienced that.
That's headaches.
—Feb. 5, 2008, deposition
"Stop Sign"
In Boston, I know I was on prednisone.
I remember that because actually
I came here to visit the White House
When the president was in,
And my head looked like a stop sign.
—Feb. 5, 2008, deposition