April 21, 2010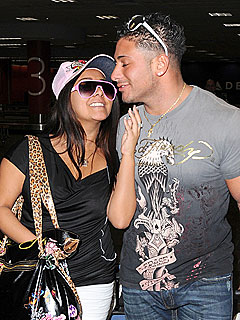 On Monday, he Tweeted that he was back on the market and now, Emilio Masella, the Gold's Gym trainer who began dating Nicole "Snooki" Polizzi in January, is speaking out about his breakup with the Jersey Shore star.
"I told Nicole I tried out for Real World and she was upset," Masella tells PEOPLE. "She thought I was using her to get on the show which is ridiculous." An argument ensued, and at 6:30 a.m. on Sunday, he received a voicemail from his angry girlfriend saying, "You're nothing. You're single."
Masella was confused and tried to call her back, but she hung up on him. What he didn't expect were the allegations of infidelity — "I'd never cheat on her–I love her," he says — and the rumors that Snooki hooked up with her costar Mike "the Situation" Sorrentino on Monday.
"I talked to her yesterday and I was like, 'You know I'd never cheat on you; I'd never do something so low,'" he says. "She said she hadn't hooked up with anybody [either] — but she freakin' lied to me. She put out there that I cheated, which is ridiculous, and now the tables have turned. It sucks."
Reps for the Jersey Shore star have not return calls for comment.
Masella is equally confused by his ex's anger toward his Real World audition — as he assumed she'd be supportive. "I never asked her for anything," he says. "She's the one that pulled me into the spotlight, bringing me to all these places. It seems like she's starting to get jealous."
Masella adds that Polizzi was also worried that he was hanging out with girls — but he claims 80 percent of his friends are female.
"I talked to her yesterday afternoon and I fought with her," he says. "I [told her] she has no reason to be mad — and she hung up on me. I told her, 'You can't expect me to stay home and never go out if you're gone for two months.'"
"But I'm not a scumbag," he says. "She said, 'If you want to have fun, bye,' and she hung up. She's being very jealous and spiteful."
After hearing the rumors of the hook-up with The Situation, Masella tried calling her Wednesday morning, but Snooki was sleeping. "I don't know if she [broke up with me] on purpose so she could hook up with Mike," he says. "I knew [her time on set] was going to be crazy, but I didn't think it was going to be this crazy."
Though he doesn't have confirmation of the hook-up, Masella believes that it happened. "I trusted her and I trusted all the kids in the house too — I was friends with them too," he says. "I thought they'd have more respect for me than that."
So is there a chance for reconciliation?
"Only time will tell," Masella says. "But I don't care who you are — I'm not going to let a girl step all over me and cheat on me." –Lesley Messer